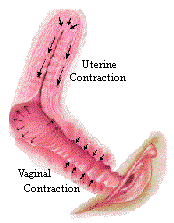 I need your help for an experiment.
You'll need to climax. One human, two humans. Even three or four. Take your pick. Add your big honking phalli and nubby rubber rings, whatever your pleasure. (Don't forget to use plenty of lubricant!) Or maybe do it regular missionary with your spouse. Maybe go it alone with just your miserable digits. Whatever works is fine.
Oh, you're going to have to do it twice, approximately the same way both times. Do it with the same person/people in the same place, same position--you get the drift. This is like
serious.
This is like for
science.
The first time, pretend you are doing it on top the pile of coats at a party in a cheapo house with thin walls and you don't want to get caught. Just like when Elmer is hunting wabbit, be vewy vewy qwiet!
Tee hee!
Next time, I want you to really announce that climax! Grunt and groan and cry out and yell (I do not, however, recommend talking. Figure out a cleaver way to give instructions
before
you hit the sack. Oh sure, you can say "yes," and "more," and "hard." Directives such as these are often welcome. But don't say, "Please insert your finger three quarters of the way into my vagina whilst using your thumb to stimulate my clitoris," or, "I would enjoy it if you contacted your abdominal muscles right now." Okay? That doesn't get it.) Make big animal noises. Gurgle if you want. Just make it way effing loud.
Now then, which sex was better?
ERIN SAY LOUD!